District Attorney General
Knox County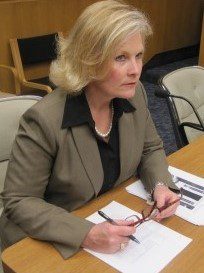 District Attorney General
Knox County
District Attorney General
Knox County
Charme P. Allen is a veteran prosecutor with more than 30 years of experience with the Office of the Knox County District Attorney General. In 2014, General Allen was elected as the District Attorney General of the 6th Judicial District, and she is honored with the distinction of being the first female elected to this position in the history of Knox County. General Allen was re-elected in 2022 and considers it an honor to serve the citizens of Knox County for a second 8-year term.
Following in the footsteps of her law enforcement family from Georgia, General Allen earned her Bachelor of Science Degree in Criminal Justice from West Georgia College in 1987 and her Doctor of Jurisprudence Degree from the University of Tennessee College of Law in 1990. Soon thereafter she became a full-time Assistant District Attorney General, pursuing her passion of seeking justice and helping victims of crimes, with a special emphasis on child abuse prosecution for the majority of her career.
General Allen relies upon her lifelong experience with law enforcement to pursue a multi-dimensional approach to prosecution. Her model for successful prosecution not only involves enforcing the law and seeking punishment for crime, but it also requires a dedication to the prevention of crime at its source in our community. Since taking office, General Allen has implemented many new policies and procedures, and has created teams of special prosecution units as well as a Community Affairs Unit in order to achieve her goal of being "Tough on Crime, Smart on Prevention."
While overseeing a staff of more than 80 professionals, General Allen's role as the county's top law enforcement officer has given her the opportunity to address criminal justice issues on a larger scale. Much of her time as D.A. is gladly devoted to working in the community, discussing and addressing a wide variety of topics related to the justice system and public safety. She is, also, pleased to be active on the boards of numerous local agencies and organizations.