Commissioner
Tennessee Department of Health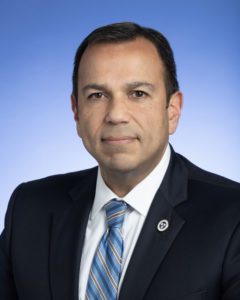 Commissioner
Tennessee Department of Health
Commissioner
Tennessee Department of Health
Ralph Alvarado, MD, FACP, joined Tennessee Gov. Bill Lee's cabinet in January 2023 as the 15th commissioner of the Tennessee Department of Health.
Dr. Alvarado has spent nearly a decade in public service and in 2014 was the first Hispanic member elected to the Kentucky General Assembly where he represented Kentucky's 28th Senate district.
During his service in the Kentucky Senate, Dr. Alvarado was Chairman of the Senate Health & Welfare Committee, led the Substance Abuse Recovery Task Force, and was a member of the Medicaid Oversight, Banking & Insurance, and State & Local Government committees.
Dr. Alvarado has been a practicing physician for the past 28 years, working in a variety of clinical settings, as a hospitalist, in primary care, and at skilled nursing facilities. Dr. Alvarado has served as medical director for the Medicare health plan operators Stableview Health and Signature Advantage, in Lexington, Ky.; as medical director and finance chairman for Kentucky One Health Medical Group, in Louisville, Ky.; and, as vice-chair for the boards of Quality Independent Physicians and Wealth MD, also in Louisville.
From 2009 to 2011, Dr. Alvarado was chief and medical staff president at St. Joseph's Hospital in Lexington, Ky., and was elected to the hospital's board in 2010, serving until 2012.
Dr. Alvarado earned a Bachelor of Science in Biology from Loma Linda University, Loma Linda, Calif., in 1990, where he went on to receive his Doctorate in Medicine in 1994. Dr. Alvarado completed his medical residency in Internal Medicine and Pediatrics at the University of Kentucky in 1998. Dr. Alvarado and his wife of 28 years, Dawn, have two adult children.